Mouth Cancer Action Month – November 2018
Mouth Cancer Action Month is a charity campaign which aims to raise awareness of mouth cancer and save lives by promoting the values of prevention and early detection.
The campaign is about making everybody more 'mouth aware' and in November, we will be highlighting the risk factors and signs and symptoms associated with the disease.
By communicating the causes of mouth cancer, we can encourage healthier lifestyles and reduce the number of people diagnosed with the disease.  It is also important that we can recognise the early warning signs so that we can act on any unusual changes in the mouth as soon as possible.
The importance of Mouth Cancer Action Month
Most people have heard of cancer affecting parts of the body such as the lungs or breasts. However, cancer can also occur in the mouth, where the disease can affect the lips, tongue, cheeks and throat.
Anyone can be affected by mouth cancer, whether they have their own teeth or not and, in the last year, over 7800 people were diagnosed with mouth cancer in the UK alone – an increase of more than a third compared to a decade ago.
Sadly, more than 1800 people in the UK lose their life to mouth cancer every year. Many of these deaths could be prevented if the cancer was caught early enough. By knowing more about the risk factors, living healthier lifestyles and by learning what to look out for, we can help reduce our risk and lower the number of lives that mouth cancer effects.
Prevention is key and lifestyle choices can reduce significant threats of mouth cancer.  Excessive alcohol consumption, smoking, chewing tobacco, poor diet and HPV (human papilloma virus) are all significant risk factors – those who both smoke and drink to excess are up to 30 times more likely to develop the disease.
Professional check-ups and regular self-examinations are the best route to early detection of mouth cancer.  Early diagnosis saves lives, improving survival chances from just half of cases to more than 90%.
Regular visits to your dentist will ensure you are professionally screened for signs of mouth cancer.  At Priory Dental Care oral cancer screening is included at every routine dental examination.  Please feel free to ask your dentist about the process and discuss mouth cancer risk factors.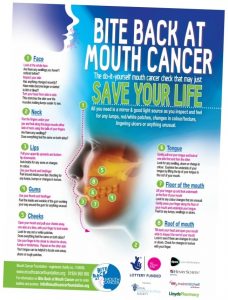 Self-examination is a simple, potentially life-saving process.  Early warning signs to look out for: –
Ulcers which do not heal within three weeks
Red and white patches in the mouth
Changes in texture or colour in the mouth
Unusual lumps or swellings in the mouth
You can download and save the 'Do-it-yourself' mouth cancer check by clicking here  – Download Mouth Cancer Check PDF
Always remember the campaign tagline – "If In Doubt, Get Checked Out."
If your mouth is a concern please make an appointment with your dentist or GP immediately and make sure they know your worries.  For more information on mouth cancer please visit: www.mouthcancer.org