Children's Dental Care
At Priory Dental Care we think little people are special people and we love to see children smile! Our aim is for them to grow up with a great smile and the knowledge to help them to keep their mouths healthy for life.
We firmly believe that prevention is better than cure and the early years are the most important in establishing good dental health – that's why we offer *FREE dental examinations and advice to children under 5 years old (*terms and conditions apply, please contact us for further details).
We place great emphasis on making visits to the dentist relaxed, fun and friendly by giving them a 'ride' in the chair and counting their teeth. We've also teamed up with the adorable Aquafresh® Nurdles; Billy, Lilly and Milky, providing children with fun motivators like the Nurdle Passport, stickers, certificates and colouring sheets.
To help make brushing fun, the Nurdles and Captain Aquafresh have their own 'Brush Time' app which you can download for free on iTunes and Google play.  You also can visit the Aquafresh® Kids website for helpful information, designed to get your children brushing.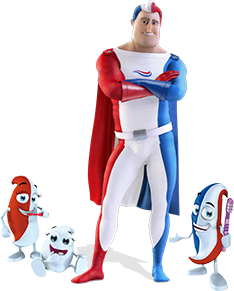 Under normal circumstances children don't suffer from gum disease, therefore treatment is primarily aimed at preventing tooth decay. Decayed baby teeth can cause pain, abscesses and infections, and can affect the permanent teeth. Your child's general health can also be affected by diseased teeth so it is very important to get treatment as early as possible.
Whether a child suffers from tooth decay depends on their inherited susceptibility and the frequency (not the amount) of sugar which they ingest. We will discuss eating and drinking habits with a view to eliminating sugar from their routine daily diet and limiting consumption to special occasions. When this is achieved tooth decay stops.
Attention will also be given to your child's appearance and referral to a specialist orthodontist can be made after discussion. Orthodontics is about more than just correcting irregularities of teeth, it's about creating great smiles. A child who can chew easily, speak clearly and smile confidently is a happier child.
Fees
Children under 5 years old can receive examinations and advice free of charge* on a private basis. (*terms and conditions apply, please contact us for further details).
Patients are free to choose between paying fees for treatment or joining an appropriate children's Denplan scheme. We have set both private and Denplan fees for all patients under 21 years old at specially reduced rates.