Colgate Oral Care Recycling Programme – Downham Market
Just a reminder to all our patients, friends and local residents…. We're still collecting oral healthcare waste for recycling!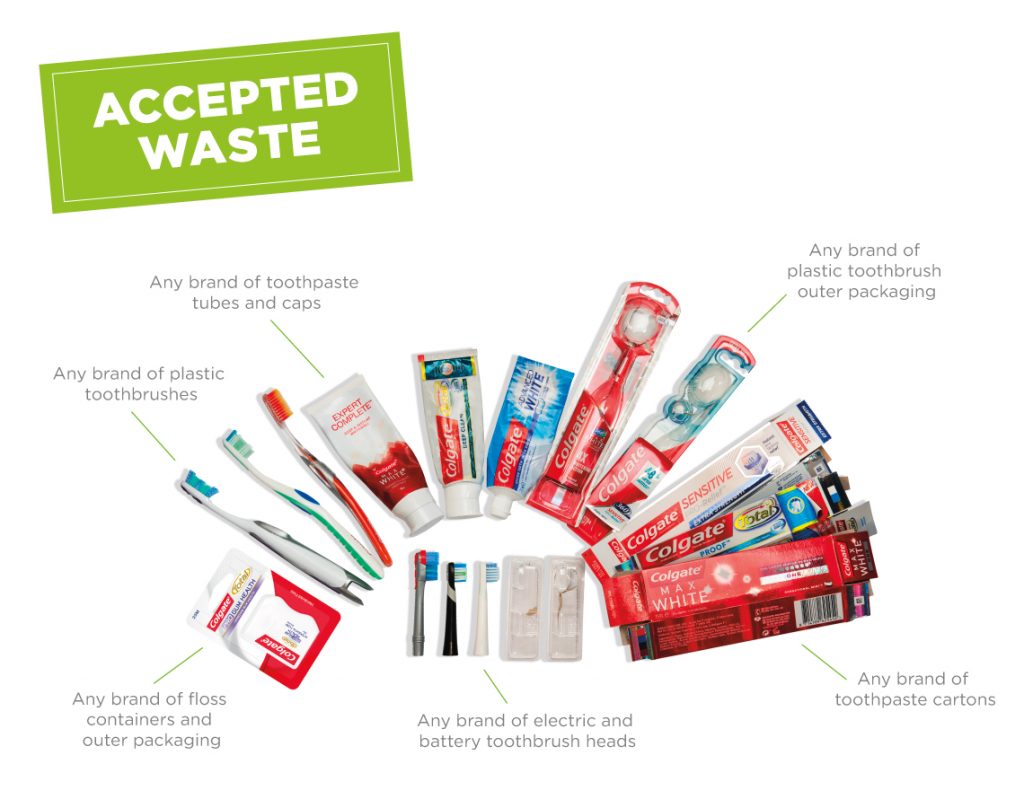 Every year countless pieces of oral care products and packaging end up in landfill sites across the UK. By working with TerraCycle® and the Colgate® Oral Care Recycling Programme we can help ensure your oral care products and packaging are recycled, and put an end to this enormous loss of resources.
Oral care products and packaging comprise of a complex mix of materials such as rigid and flexible plastics and bristles, which is why it isn't accepted through local council recycling systems. However when TerraCycle receives toothbrushes, toothpaste tubes and caps, outer packaging and cartons they can separate these by composition, shredding and melting them into hard plastic pellets that can be remolded to make new recycled products, such as benches and construction applications.
By joining the Colgate® Oral Care Recycling Programme, not only are we helping the environment, but we're raising money for charity too! For every kilo of Oral Care waste we collect, TerraCycle will donate £1 to the charity of our choice.
We've chosen Big C – Norfolk's Cancer Charity as the charity to benefit from the recycling programme. Big C fund life-saving treatments, diagnostic equipment and nurses for hospitals in our local area. They offer advice and practical support to people and families affected by cancer. And they also invest in critical and ground-breaking research into cancer, right here in Norfolk.
The following oral care items are accepted by the recycling programme:-
* Toothbrushes, including outer packaging
* Toothpaste tubes and caps, including outer packaging
* Floss containers, including outer packaging
* Electric and battery toothbrush heads, including outer packaging
Although the programme has been initiated by Colgate, we can accept any brand of oral care products for recycling. Please click on the link for a detailed list of what waste can and can't be accepted… https://go.aws/2xerGvt
Please start collecting today, and encourage your family, friends and neighbours to start collecting too – You don't need to be a patient of the practice to join in with our quest, as we're an official drop-off location for the whole community!

#DownhamMarket #Recycling #Colgate #Terracycle #OralHealthcare